Since yesturday the Bank Austria artforum(purposely no link) is presenting an all new retroperspective on the great artist Frida Kahlo. Of course we were all about seeing it on the first day of public opening.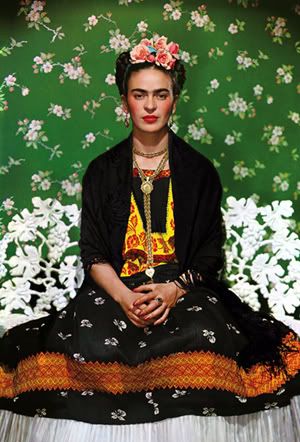 "I drank to drown my pain, but the damned pain learned how to swim, and now I am overwhelmed by this decend and good behavior"
- Frida Kahlo
The Exhibition includes 60 paintings, 80 sketches and 20 objects. In one of the last rooms there are some photographes of Frida and her Family to complement the ambitios exhibition.
Most of the shown pieces are a courtesy of the
Frida Kahlo museum
in Mexico city. The other pieces are mainly pirvate and public courtesys.
The Collection is the first Frida exhibition in Austria in the amount of pieces.
In
Berlin
people waited up to 7 hours before opening to event get in on the first day 235 000 people in total visited the exhibition.
In Rome even more 580 000 people came to see Fridas work.
In Vienna on the first day alone news papers report about 2 000 people. Is this maybe the most popular exhibtion ever?!?
One thing that we noticed when we walked from one room to the next was not only the "no photos" sign :( but also that sometimes Frida signs her pictures with FriEda and sometimes with FrIda? whats that about?
MB