Sitting at my desk, wondering around in the world wide web with nothing special on my mind i get an e-mail from a good friend of mine. A Christmas greeting from my Agency "Tatendrang". I open the mail. I first have to rub my eyes cause the image, that jumps at me, is pure art.

Immediately i try to find out who took this picture. Tina Cassati. I get in contact with her and ask her for an interview. And here you are. A special Artist talking to Dough&Fruit. enjoy!
I look at you work and am not quite sure which category i should put you in, your a fashion designer but not only, maybe simply artist? how would you define yourself?
I am an artist, who looks and works different. That creates more area to experiment. I work on the computer, illustrate, video, sketch, sew and photograph. I unite everything to an art form.This extends the horizon and is marvelous. I am interested in so much! and much inspires me.
Now, when i understand it correctly you take "trash" and create/recylce it to art/fashion pieces. i love the idea cause i think our society throws enough useful things away and is very unconscious. How did you come to the idea of working with fashion in that, very creative, way?
I already worked as a child on old materials for my dolls costumes and made or built furniture for the doll's house from old materials. My family did not understand that these old materials for me were valuable.
Creative working on more used or thrown away materials promotes the fantasy. In our very superficial, material western world many forget to respect the nature and the other things, which surround our daily life. One could avoid garbage, if humans would finally change their consumer behaviour. With my recycling art humans think about the process of throwing away. And using garbage again and/or processing it to be sensitized of consumer and waste products in our society, avoided garbage and created or re-use. Improvisation and invention promote my ART …
- for absolute preservation of free spaces and subcultures
- for the promotion of recycling art and the creation due to it of re-use cycles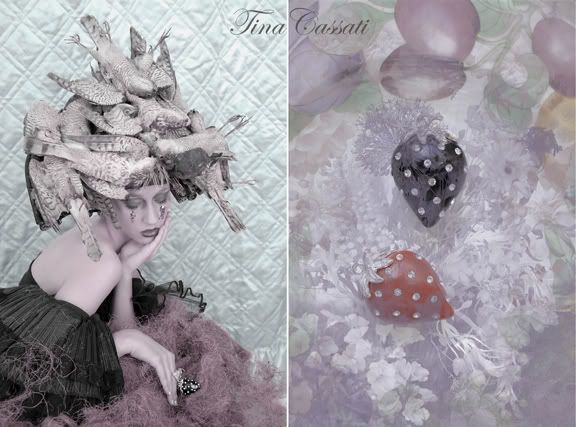 I think that the "green" trend is coming back more and more, do you feel the same?

Fashion is somewhat beautiful. many designers should work however more ecological and show responsibility, for our environment and ground, behind the scenes it looks often differently. if everyone makes a small contribution, the entire result can be very large.
Your "les costumes grotesques" project is a hommage to elsa schiaparelli. What do you like about this strong unique woman?
she was a courageous and strong woman with many unconventional ideas. I like the fact that she brought surrealism and Dadaism into fashion. there were many strong women at that time. It was not easy for them and they needed much courage to realize their visions. with my hommage I would like to express large respect and love for these women. They should not to be forgotten!!!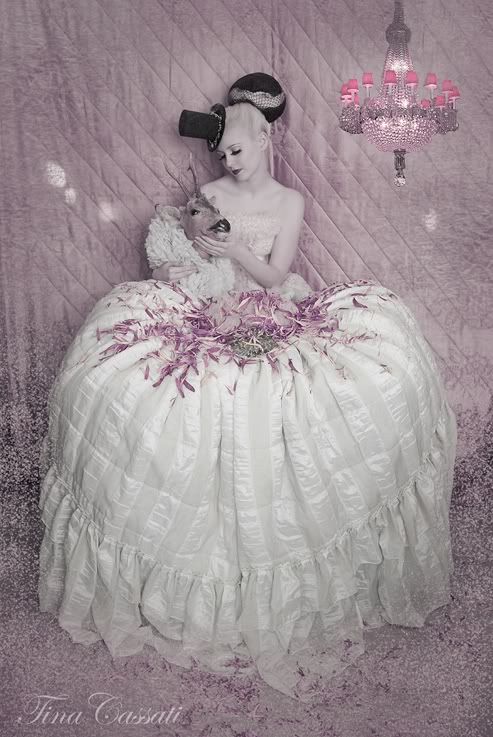 Can you give us an example of another designer/artist/musician or anyone how inspires you?
Oh yes, i love victor and rolf, alexander mcqueen and christian lacroix they connect art and fashion for me, I like in addition, the elegant classic dresses and hats of Dior. there is a lot that inspires me. In art adore salvador dali, ernst fuchs, sandro boticelli and lucas cranach. Particularly Dali and Fuchs impress me in their versatility. Boticelli and Cranach - I love their picture language. At present I love the music of Giovanni Battista Pergolesi. Also i like and very desiree dolron, chantal michel,eugenio recuenco.
When did you decide to do what you do? was there ever another profession that you wanted to go after?
First i planed to make more in the next years fashion design. I love Fashion and Costumes, i love to work with my hands, photograph also, but less. it brings freedom and so much fantasy and joy.
Which brings me to my next question of your background -bio. Did you always live in Berlin? where did you grow up? Did you study art or fashion before you started your "Label"?
I grew up at the Baltic Sea and I was born as an artist. I am a free rebel. I moved to Berlin, because of friends, but I miss the sea. I prepared my label " Salone di Pessa" for 2 years alone. I showed some work in the past. In summer i will give a larger presentation of my work of 2010. I working on new costumes right now. In addition i will also give a photographic and video work from the collection.
What is your message that you want to bring to this world?
THE WORLD NEEDS MORE FANTASY °°° Salvador Felipe Jacinto Dali
Your own life motto?
Life is a work of art, or carries a work of art
What is your favourite drink, alc. or non alc.?
I love hot chocolate in the winter and Caipirinha in the summer.
Would you ever want to come to Vienna?
Oh yes, very gladly !!!!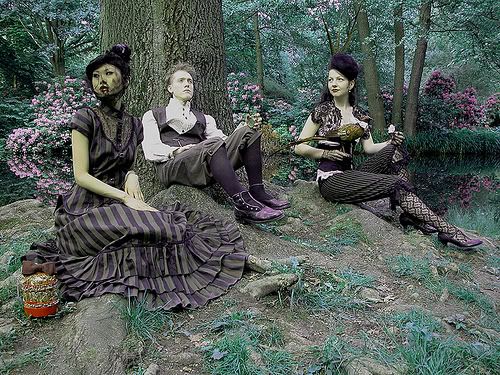 Thank you so much for you time, we wish you all the best!



MB