New york
has a lot to offer sights,
music
, fashion, culture(more the variety of people then the city it self).
And once more we stay with fashion. Designer
Ronit Genik lives in new york and we love what she does.
without further introduction: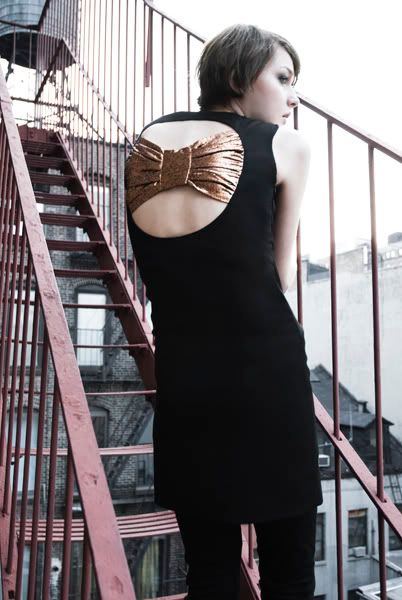 On your homepage it says that you are from Israel, does your background
give any point of influence to you? influence on your designs?
I was born in Israel, grew up in New York with a Russian background as
well. All of these backgrounds definitely influenced me and my designs at
some point. Growing up in a place as culturally diverse as New York is
still an influence on all my current collections as well.
Now, when I look @ your designs I find a lot of modern chic in it. A lot
of black, nice feminine cuts - strong cuts. How would you describe your
current 2009 collection?
I would say my collections have much in common, like
strong silhouettes, great fabrics and interesting details. The designs are
easy to mix and match with anything in your closet.
The current Fall collection was inspired by texture, details and fabrics.
I created a few prints- a solar eclipse print, moon landscape,
sun-inspired print and celestial star print. This theme carries from a
previous Spring collection, which is a theme I felt strongly about.
Details like special copper buttons, chains, studs, pleated fabric insets
and cut outs make the designs unique and timeless.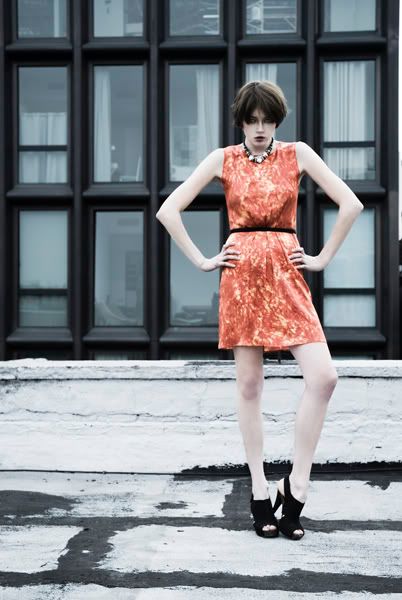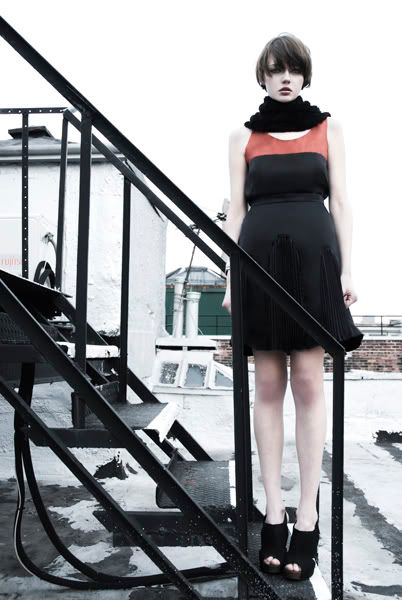 You have worked as a designer for various labels(as read on your page),how
did you like that time?
I think working for other labels is essential. There is so much to learn
and it is important to see how a fashion business is run. I have worked
for both bigger and smaller companies and they were all unique in their
own way. I learned something new from every experience and it has made me
a better designer.
How do you like living in New York? Do you think that a certain
city/place is a major issue when it comes to being creative?
New York is a fantastic city to live in. You have a lot of exposure to
great art, music and culture. I am very influenced by watching people and
what I see on the street and New York is a great place for that.
Why did you decide to start you own label?
Its always been my dream to have my own label. I always loved fashion and
grew up looking up to fashion designers like
Helmut Lang
. I always feel
inspired by details, shapes, and fabrics in fashion. I love the power that
a great dress or suit can make on a person. After getting some fashion
experience, I decided to start my own label.
For someone who wants to start his own fashion label. What tipp would you
give this person.
My advice is to get some experience with other companies. Take some
business classes. Try to learn as much as you can. It is good to learn
about other aspects of the fashion industry like PR or merchandising in
order to understand the many perspectives of the industry. Starting a
fashion label is tough work, but very gratifying.
A designer that is not known and you want people to check out?
There is a cool swimwear line, We are Handsome that has fun retro prints
on their swimwear, like wearing art to the beach!
http://service.gmx.net/de/cgi/derefer?TYPE=3&DEST=http%3A%2F%2Fwearehandsome.com%2F
Your favorite place you have ever been to?
Iceland.
Ever want to go to?
Mongolia. I love to go to interesting new places with great beauty and
culture.
Your tip for 2010? What will be of matter in fashion, politics, etc...?
My tip for 2010 is to do what you love and don't let anything stop you. In
fashion, I look forward to seeing new ideas and great creativity in the
world of fashion, that pushes us to new heights. As far as politics and
the world, I hope that we can only be more peaceful and embracing each
other's differences.
Thank you Ronit for the Interview. we wish you all the best
MB