So my teddy bears,
As some, not all but some, of you are probably familiar with the
Wood Wood Store
concept right. Good! because i have really now time to break it down for ya!
Anyway it opened its gates in Vienna during the
9 Festival
for Fashion and Photography. Which is taking place right now until the 10th of June.
Anyway we stopped by and checked it out and yes well its a concept store what should we say. All the "fashion-people-wannabes" scraped their 3 designer pieces out of their closet and played along the game called "OH! look at me".
After about uhmm.... 15 min i had enough of the whole circus and i made my way home to get changed(it was pouring rain) and to get ready for the
Vice Magazine
Party.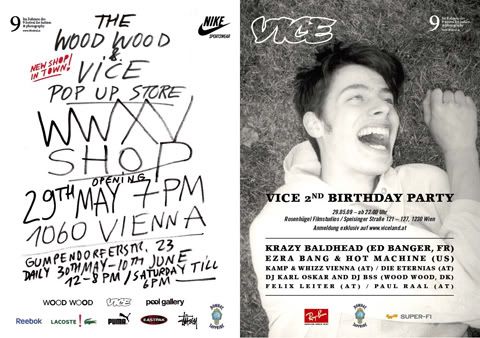 Which was even more shit then all the other Vice parties i have every been to!
Guys quit the hip-hop NO ONE LIKES IT!
The Location was in the 23rd district. Somewhere out in tha boonies! It took us 30 min with the cab there.
The Location it self was the best part of the evening. We really liked that!
10 min and 3 long-drinks later we decided to hit the road and go home. Sorry Vice.
MB