Now now now my little ones, it is getting colder and so we should go to Sheila Frank and buy some new bathing suits:)
I love to go ice-swimming its such a different experience and so is the fashion of Sheila Frank.


Dough and fruit

managed to get an interview with her. enjoy!












How did you get started with your fashion?


My mommom (mother's mother) taught me how to hand sew when I was 6 yrs old. I would sketch detailed illustrations of princess-like dresses.



When i looked at your collections so far, i noticed that you have a lot of awesome swimwear. What do you like about swimwear in particular?


This all started because when I would go swimsuit shopping, I could never find what I liked... I'm more intereseted in the shapes of vintage swimwear, like pinup/retro styles. Now I'm experimenting with swimwear fabrics and creating texture with the fabrics by draping, rouching, weaving. (you'll get to see this in the spring 09 collection, showing during ny fashion week on sept 11)




Where do you get your ideas from and your inspiration?


Alot of inspiration has been drawn from the 20s through the 50s. The last swim collection, Summer Swim 08, was inspired by vintage postcards, and coney island. I'm very interested in fashion of yester year. I enjoy in revamping ideas and making something old, new again.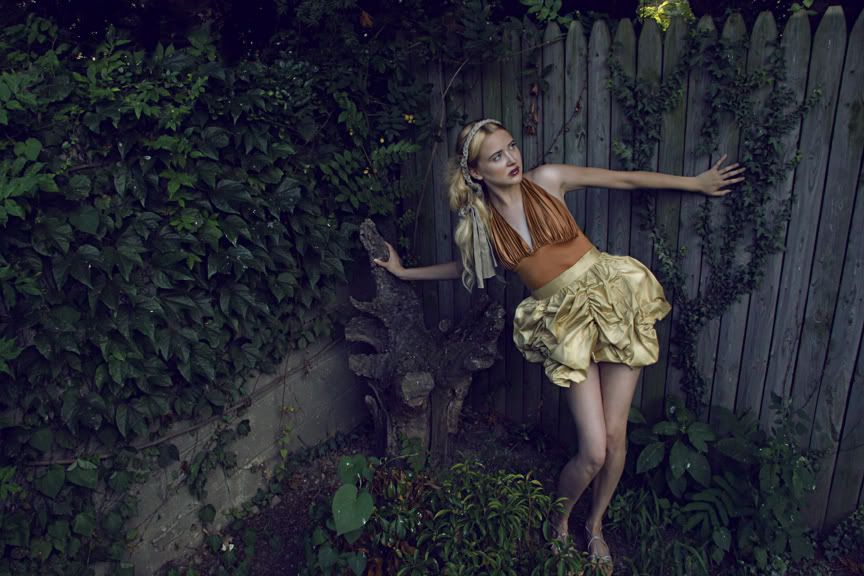 Was it always your plan to make fashion?


No. I won my first art/poster contest in 1st grade! I studied Fine Arts at a previous college. I've always had an interested in fashion, but never wanted to design...I was more interested in styling looks. While studying at Pennsylvania College of Art and Design, most of my projects/ works turned into a fashion theme. After a few professors told me I should do fashion, It seemed to all make sense. Then I transfered to Moore College of Art and Design where I gradated with a BFA in Fashion Design.




If you could, would you do something else other than fashion?


oh a Chef! I love to cook. It's another passion. I do not have proper training, but I do enjoy making up recipes and trying new things. I'm Italian, we like to eat.





What is it you like about it?


if you mess up a recipe you can just throw it out haha.



What is your favourite drink?


jack and coke. (non alcoholic would be apple juice)



What music do you listen to currently?


I don't have favorite bands at the moment. I listen to punk rock, rock n roll, rockabilly, classical, indie, folk rock, new wave pop, 80s.




Would you come to Vienna (Austria) if you could?


oh yes! is this an invitation? ;)


Oh! yes it is an invitation! we want you to come and party with us the night away! And we will all wear your swimwear and swim in the Danube!!!









MB